San Diego Comic Con стартира и от LEGO показаха официално как ще изглежда техният щанд – #2829 за феновете, които няма да могат да присъстват. Той ще бъде като класически Blockbuster Video магазин или по нашенски казано видеотека, но по джиджани от тези в България през 90те. На щанда могат да бъдат видени предстоящите сетове за идните месеци, може да бъде играна новата Sonic игра, както и има място за строене и от видеото на Beyond the Bricks по-долу се вижда, че построените неща се слагат на стена на която пише New Releases и изглеждат като видео касети, доста интересна идея. Феновете ще могат да си купят и някои от предстоящите сетове преди да са пуснати на пазара. Тази година няма да има ексклузивна минифигурка за SDCC, но от щанда на LEGO ще мога да бъде сглобена безплатно минифигурка на която торсото ще е само ексклузивно.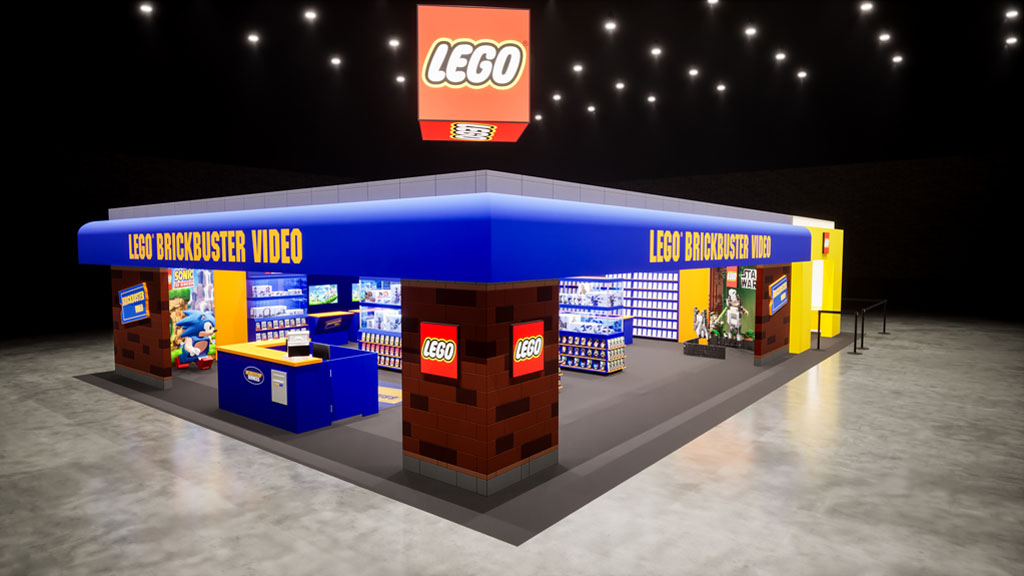 Официалното изявление за събитието на Английски:
Booth #2829 gives attendees a nostalgic, playful LEGO® experience from July 20 – July 23
As 2023 San Diego Comic-Con kicks off, the LEGO Group, in collaboration with DISH and Blockbuster® Video, unveils LEGO® Brickbuster Video, an unforgettable experience marrying the worlds of entertainment, nostalgia and play for all. Fans can expect an action-packed agenda of playful experiences, photo opportunities, product reveals, branded panels, and show-only opportunities from Thursday through Sunday.
"We always aim to provide an unforgettable fan experience at San Diego Comic-Con. There was a time where you could find your favorite movies, video games, and TV shows all under one magical roof at the local Blockbuster, so we knew the retro video store could help unify all the exciting LEGO play worlds we offer," said Maddie Boushie, senior brand manager at the LEGO Group. "Our LEGO Brickbuster Video experience houses beloved entertainment and video gaming properties together with new LEGO building sets and hands-on building activities, offering fansa chance to unlock their imaginations and inspire their next playful adventure."
Explore LEGO Brickbuster Video at Comic-Con
Fans will be eager to enter the creative universe that is LEGO Brickbuster Video and explore all the brick-built details. Activities include:
• An immersive retro video store experience, including beloved properties, interactive fun and gaming kiosks
• More than 50 LEGO building sets displayed: NEW LEGO Sonic the Hedgehog™, NEW LEGO DreamZzz™, LEGO Ninjago®, LEGO Star Wars™, LEGO MARVEL and LEGO Super Mario™, plus a few other cameos
• Hands-on family LEGO building opportunity to build custom creations for the iconic "New Releases" wall
• Con-wide scavenger hunt featuring familiar clamshell VHS cases for fans to find and return, with prizes redeemable via the "Brick Drop" at the LEGO Brickbuster Video info desk
• LEGO Store pop-up with opportunities to purchase select LEGO Sonic the Hedgehog, LEGO MARVEL, LEGO Star Wars,and LEGO Super Mario sets before their street date, plus a variety of other fan favorite LEGO sets
• Surprise giveaways including LEGO Brickbuster Video Membership Cards and exclusive pins
• Free Build Your Own Minifigure experience with a limited-edition LEGO Brickbuster Video themed torso. Guests (18+) are required to register to gain access using a digital queue system. Registered guests may bring up to two children to participate in the experience
• Daily signings featuring the cast of LEGO DREAMZzz™ (Thursday 12 p.m.), LEGO Masters judge Amy Corbett and Season 3 winner Stacey Roy (Friday 12 p.m.), and the LEGO Ninjago cast (Saturday 1:30 p.m.)
New 'movie standee-style' life-size LEGO® brick models
LEGO Brickbuster Video features several step-in photo opps with a brand-new style of life-size LEGO builds that resemble classic cardboard standees used to promote new films in movie theater lobbies.Figures include a new Captain America Minifigure that changes daily and standees featuring the LEGO Star Wars™ Endor Speed Chase scene, inspired by the LEGO diorama building set.Design Manager Pete Donner will be available to discuss how he created these photo moments in a Q&A session on Friday 5:30 – 6 p.m. Additionally, a 4.5ft tall 3D LEGO sculpture of Sonic the Hedgehog™ debuts at the show.
Explore the Galaxy with new LEGO Star Wars sets
Three new sets joining the LEGO Star Wars collection will be displayed. Tied to the upcoming Star Wars series Star Wars: Ahsoka, the LEGO Group adds the Ahsoka Tano's T-6 Jedi Shuttle building set, and the New Republic E-Wing™ and vs. Shin Hati's Starfighter™ building sets. Additionally, a brick-built display model of everyone's favorite Wookiee, Chewbacca™, gives adults a one-of-a-kind build and display opportunity. Fans can pre-order these ahead of their release date of September 1st by visiting LEGO.com.
Panel events
LEGO Group will host two panels. On Thursday from 10:30 – 11:30 a.m.: I had a DreamZzz last night about Ninjago, Room: 6BCF and on Friday 4 – 5 p.m.: LEGO® Masters: Behind the Brick, Room: 25ABC.